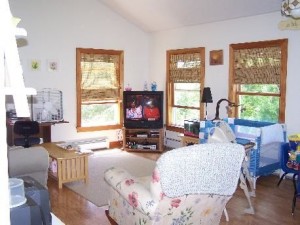 A year ago, "Susan" was 23, hooked on drugs and trying to raise her 1-year-old daughter.
Susan began using drugs when she was 16. She said she was sober when she was pregnant, and her baby was born healthy. About three weeks after her baby was born, though, Susan succumbed once again to the lure of drugs.
She said she got to the point where she was unable to hold a steady job. She was enrolled in college, but she skipped classes. She stole money to buy drugs and eventually began using heroin. She regularly left her daughter in the care of her daughter's father and his parents – who also abused drugs and alcohol.
Susan – who asked to be anonymous in order to protect the identity of her child – remembers the day she hit rock-bottom.
"The last day I was using, I had almost $3,000 worth of drugs and alcohol in my system and was overdosed and it just had stopped working, but I still couldn't escape. I was still left with everything that I was trying to run from," she said. "I actually felt myself dying. My heart stopped for 15 seconds, and I just prayed. I said, 'I can feel my heart stopped, my brain cells are dying and I paid money for this.  I said, 'God, you helped me before. I know what I have to do. Just please let me make it through this so I can make a call.'"
The call Susan made was to the Open Door Recovery Center (8 Old Mill Road, 667-3210) in Ellsworth. Open Door runs a live-in home for mothers and their children, called Hills House Recovery House.
Hills House, now in its third year, provides a safe, nurturing home for women with children up to age 5. Staying at Hills House allows the client three to five months to receive treatment at Open Door, access to 12-step programs, and 24-hour supervision. Two women and their children live there at any given time.
The facility, named after Open Door founder William Hills, depends on private donations.
According to Open Door's executive director, Barbara Royal, Hills House has been used by 24 mothers so far. This week, she said, the facility is at capacity with two women and their children. There are two mothers on the waiting list, and Open Door is seeing four pregnant women.
As mothers who want to provide better lives for their children, the Hills House clientele is particularly motivated to succeed in their substance abuse recovery, Royal agreed. The facility has a 90 percent success rate for recovered addicts, she said.
"Because they actually get to keep the baby, it's so much easier to focus on their recovery, because that's one less distraction," Royal said. "They get to actually have their child with them. They don't have to worry about whether the baby is okay. They don't have to worry about losing that time. Child care is built in. The 12-step meetings are next door. There are no transportation issues. There are no treatment barriers. The two biggest barriers for most people are transportation and child care, and those are just eliminated."
Susan had lived at Hills House and gone through the Open Door recovery program a year previously and had done well on her own for about six months, before relapsing.
This time around, Susan said, she is fully committed to sobriety, for her own sake and for the sake of her daughter, who is now 2. She is again enrolled in college and has made a complete break with the drug-using crowd with which she used to hang out. She is in the process of seeking sole custody of her daughter, in order to restrict the visitation terms of the father, who continues to use drugs. She also limits visitation between her daughter and some of her own family members who use drugs and alcohol
Susan comes across as a very determined person. Her daughter is a live wire – a giggly, adorable little girl who enjoys a lunch of chicken nuggets dipped in ranch dressing and who chats amiably with a visitor about her yummy meal.
 Susan is well-educated and disciplined – someone who, as a child, did her homework as soon as she got home from school, enjoyed her studies, graduated from high school with honors, and received seven scholarships to pursue her studies in the medical field. In reaction to her family's drug and alcohol use and to a chaotic household, she moved out to live on her own when she was 15. While still in high school, she worked in retail and then received certification as a personal care attendant so that she could care for her handicapped grandmother. Employed at one time by a credit union, she worked her way up from file clerk to assistant manager in mortgage loans.
She is currently studying to become a federal auditor for the Internal Revenue Service; it's a career, she said, that should allow her to make a good, steady income that will support her and her daughter without outside assistance.
Throughout her high school and post-high school years, though, Susan struggled with drug and alcohol addiction.
"I'm poly-addicted – alcohol, marijuana, opiates, amphetamines," she said. "There wasn't anything that I wouldn't do."
Susan and her brother grew up in a family where they were exposed to drug and alcohol use.
"They tried to hide it," she said. "But I remember, when I first smelled pot, I recognized it. They tried to keep it from us kids and they did a pretty good job and we were told that we shouldn't do that, but I never developed any coping skills. So I was an addict before I picked up any substance."
Throughout her life, she said, she was exposed to physical and emotional violence.
"It was a fight-or-flight childhood – trying to escape with lying to make sure that I wasn't going to get in trouble, because if we got in trouble, we were spanked or whatever," she said. "So I would try to avoid getting caught. And then from there, I was out doing every single afterschool activity so I wouldn't have to be at home."
Susan has some good memories from her childhood. It was her mother, she said, who taught her to get her homework out of the way so that she could enjoy the rest of the afternoon and evening for playtime. The family ate supper together at the table, and her mother had a little conversational ritual of asking the children to describe three things they had enjoyed doing that day. Her stepfather took the time with the children to help develop their skills in sports and in being a team player and he took them fishing and snowmobiling.
Still, said Susan, the situation was bad enough that she decided to leave home at 15. After living with a friend for a while and then in her own apartment, she moved in with her grandmother and became her personal care attendant.
Susan started smoking marijuana and drinking some when she was 16 and still in high school.
After graduation, when she no longer had her studies to keep her busy, "I was kind of left with myself, so I started drinking more and smoking more and getting into other drugs."
At 18, she said, her grandmother was doing well and didn't need services anymore. Susan realized she needed some time to figure out what she wanted to do next, so she headed out west to be with her biological father. Although she was aware that he also used drugs and drank, she thought it would be nice to spend time with him and enroll in college nearby – until reality set in.
"After 10 days of his drug use and physical abuse, I decided I wasn't going to do it," she said.
She moved out and took a job with a credit union. Her own drinking and drug use worsened, although she remained "high-functioning," as she said – able to thrive in her work and rise through the ranks.
She recalled the way in which she would rationalize the amount of drugs she was taking, and her progress to new drugs.
"Once I went on to something else, everything then was okay," she said. "I had these boundaries set up – 'Oh, I'm never going to drink' – and then I drank. And then – 'I'm never going to smoke' – and then I smoked. And then – 'Well, this is okay but I'm never going to do anything else.' And once the boundary was broken, they were all broken. The one thing I didn't do was IV [intravenous] use. I did heroin, but not IV. I did it all nasally. I was very afraid that if I ever did that, I would never come back from it."
When she was 20, her brother, back in Maine, had a serious accident. She moved to Orono to help take care of him. At the same time, she said, she became increasingly involved in trying different substances, and she also started to sell drugs in order to support her habit. She still had major goals in life – perhaps pursuing studies in medicine or accounting. But she found herself caught up in a circle of friends where substance abuse was the norm.
"Drugs made all my decisions for me," she said. "I would hang out with people who used, I would sleep with people who used, I would sleep with bartenders or deal drugs to them to have them serve me before I was of age. I worked at jobs were I could either easily access drugs or leave when I wanted in order to go get drugs."
Susan was working in a bar when she met the young man who would father her baby.
"Basically, we just partied together all the time," she said. "And I found out six months later that I was pregnant. I stopped using and he didn't."
The two lived in an apartment that was "kind of a big party house," she said.
 "I had two roommates plus him, and then there were people on our couches who were partying all the time, trashing my apartment. I just felt powerless over them. They were up all night talking to plants and stacking beer bottles in corners, and it got to be a huge mess."
Their baby, she said, was born healthy, and Susan intended to stay sober and provide proper parenting for the child.
But, surrounded by drink and drugs, the lure was too strong, she said.
"When I got home from the hospital, I was making her a bottle, and her father asked me if I wanted mine, and he handed me a bottle of beer," she said. "And about three weeks later, I was back to – as if I had never stopped – smoking, doing pills. Then there was a day when there was nothing around, and I was introduced to heroin by a friend I went to high school with. By the end of the day, I was $300 invested and I was dealing. I dealt most of my drugs to support my habit. I stole from people, I ripped people off. I would either leave her [the baby] with somebody who would watch her or would bring her with me. It didn't matter what I had to do to get it, it was just what I had to do."
The first time she called Open Door, she said, it was because she realized she had to provide a better life for her baby. At the time, she was unable to hold a steady job. She wasn't attending classes. And she wasn't able to get out of bed in the morning without a hit of drink or drugs. The boyfriend and his family, she said, were no better. They fed the baby meals, she said, of soda and cookies, and kept her up late.
"She had no stability, no structure, no schedule, and I reached a point where I could not live with myself anymore," Susan said of the baby's situation. "I was absolutely disgusted with  what was going on. I knew there was another way. And I was absolutely miserable, almost hopeless. The only reason I wasn't completely hopeless was because I knew where to go to get better, and that was through the program."
She first went through the Open Door recovery program in the summer of 2009. After graduating in September, she and her baby lived with an aunt and uncle, and Susan went to court to gain sole custody of her child. But when the boyfriend and his family showed up for the hearing, she said, there was a reconciliation.
"As soon as I saw him and his family, I decided that they really weren't that bad and that we could make it work and that I could stay sober," she said. "I just made all these justifications."
Things seemed to go well during the first few months, she said. She got her driver's license back, she was going to school for cosmetology, and the baby was in day care.
By the start of 2010, though, she had begun using again. She was able to hide it from others for a time – until, she said, she herself just didn't care anymore.
"It was just getting horribly,  horribly exhausting," she said. "She was in day care, I was in school, I had my license, I was working on getting a car. But it got to the point where it didn't matter."
On that fateful day when Susan felt herself die and asked God to bring her back, her daughter was with family members for a birthday party. Susan called Open Door and, in short order, she and her child were accepted into Hill's House a second time. She withdrew from drugs without the aid of replacement drugs.
"I went cold turkey," she said. "I think replacement therapy helps other people. But for me, it's a crutch and a link to the other world. Eventually you're going to have to come off of it anyway."
That was about six months ago. While at Hills House, she followed the Open Door recovery program, got a job, and again enrolled in school. She is now the sole provider for her child. The staff at Hills House, she said, provided her with support to find work, day care, financial aid for school and, ultimately, an independent living situation. She is once again seeking sole custody of her child.
She has also worked out a clear set of boundaries in relation to the father, her own family, and her social life. She has cut ties to old friends who use drugs and alcohol. She's open to the idea of the child's father being part of the lives – but only if he's foresworn drugs and alcohol. Susan allows her mother and stepfather to see her child, but only if they are sober at the time.
Susan entered Hills House, she said, strong in her knowledge that she had to make things right for her child.
The facility, its recovery program, its support network, its structure and schedules were essential in helping her to achieve that goal, she said.
"They helped me to network and become aware of services that were available," she said. "I got a vehicle while  I was there, I got the job while I was there, they helped me figure out how to go to school. They helped me research day cares, they helped me get to grocery stores, to meetings, to appointments – just everyday life, getting back into regular living and not being so obsessed with drugs. They
encouraged me to break through my self-induced limitations. And they helped me to learn coping skills and initiated the development of my self-worth."
At one time, she said, she was convinced that her addiction was going to be the end of the road for her.
"That was just how I thought my life was going to be," she said. "I was caught up in so much despair, I was afraid of changing it.  I want people to know that anyone can change their life. They just have to want to.
Through the vicissitudes of the past two years, Susan has been deeply aware of her role as the one constant in the life of her daughter. And her deepest desire now, she said, is to remain "present," as she said, to her daughter the rest of her life.
"We've been through a lot, but we've been through it together," she said. "She's been with me the entire time and I'm the one constant that keeps her stable. She hopefully won't have to see me anything but sober ever again."       
(Published in The Bar Harbor Times, Feb. 2, 2011.)