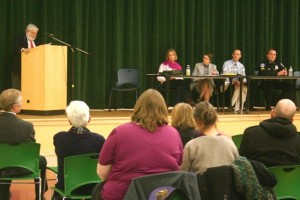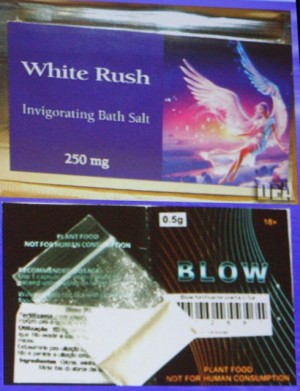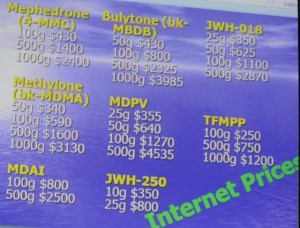 The use of the synthetic drug commonly known as "bath salts" has not been the epidemic on Mount Desert Island that it has been in other Maine communities.
But MDI has not been immune to its presence, and there is some concern that, with the coming influx of seasonal employees and tourists, abuse of the drug will increase in local communities.
The emergency department at Mount Desert Island Hospital has treated two confirmed and two suspected cases of "bath salts" use, with the last confirmed case occurring about six months ago, according to the hospital's emergency department medical director, Dr. J.R. Krevans Jr., The patients were young adults, he said.
Ed Oechslie, executive director of the Acadia Family Center in Southwest Harbor, said that about 6 to 8 percent of the center's client load have reported use of bath salts in recent months. The ages of AFC clients who have used bath salts range from 20 to 40, Oechslie said. But, he said, he has heard reports that there are people younger than that who are using bath salts on MDI.
Throughout Hancock County, there has been something of a decline in the prevalence of bath salts-related incidents, since the synthetic stimulant was outlawed last year, according to panelists who spoke at a recent forum on the drug in Ellsworth. According to health care providers and law enforcement officials at the forum, the effect of the drug are dire.
"'Bath salts' are not bath salts," said Dr. Daniel Reinke, director of emergency medicine at Maine Coast Memorial Hospital in Ellsworth. "You do not sprinkle these in a warm bathtub, light a candle, put on music and soak in that lavender-scented aroma. These are just the opposite of tranquility. These are a stimulant. They are a clever ploy, a misnomer to sell drugs under the radar of the FDA [Food and Drug Administration]. And it works out well."
Reinke called bath salts "speed on steroids." According to the Drug Enforcement Administration, "Synthetic stimulants that are marketed as 'bath salts' are often found in a number of retail products. These synthetic stimulants are chemicals. The chemicals are synthetic derivatives of cathinone, a central nervous system stimulant, which is an active chemical found naturally in the khat plant. Mephedrone and MDPV (3-4 methylene-dioxypyrovalerone) are two of the designer cathinones most commonly found in these 'bath salt' products. Many of these products are sold over the Internet, in convenience stores, and in 'head shops.'"
"Bath salts" are usually ingested by snorting, but can also be taken orally, smoked, or put into a solution and injected into veins, the DEA said. The DEA said that law enforcement officials believe that the stimulant chemicals contained in the products are manufactured in China and India and packaged for wholesale distribution in Eastern Europe. "Many countries have banned these products," the DEA said.
According to the Office of Substance Abuse, most states, including Maine, have passed laws outlawing the synthetic drug over the past year. Maine banned the sale of the compounds July 2011. In September 2011, Maine legislators enacted a law that made bath salts possession a crime and trafficking a felony.
A federal ban put into place in October carries strict penalties. Carletta Bassano, district attorney for Hancock and Washington counties, said that, although the bath salts wave occurred statewide over the past year, it hit hardest in Bangor and the midcoast region. The synthetic nature of the drug makes it difficult to battle, Bassano said. The state legislation that outlawed the drug, she said, identified eight specific chemical compounds that are known as bath salts. The problem is that only one chemical in a known compound needs to be tweaked in order to become a new compound with similar effects.
"And then you've got number nine, 10, 11, 12 on the list and, guess what, they're not illegal. They don't fit the chemical definition that's in the statute. The field test won't pick them up. And back we go," Bassano said. "That's the battle that law enforcement and prosecutors are facing when it come sot these synthetic drugs."
Reinke said the effects of the drug comes in three phases. "The first phase is one of euphoria," he said. "People feel fantastic. They have energy they never thought would have. Their concentration and mental stimulation is unsurpassed."
The second phase, he said, occurs when the euphoria wears off and other symptoms set in. Those symptoms, he said, include heart palpitations, dangerously high body temperature, teeth-grinding, poor concentration, inability to sleep, paranoia, dizziness, confusion and tremors. The third phase, he said, plunged the user into deep depression and anxiety. To battle their emotions, some bath salts users re-dose themselves, he said. "And that works for a while – sometimes a couple of hours, sometimes for many days," Reinke said. "But the piper needs to be paid, and he is – big time."
Users enter a "crash-and-burn situation," Reinke said. "The paranoia increases, bizarre behavior mounts, you get paranoid hallucinations and prolonged panic attacks."
Reinke said that, in his emergency department, he has seen users who are "out of their minds. They cannot complete a thought. Often, they're babbling and often screaming. There's no talking down these people. They're extremely agitated and they become highly destructive."
The drug acts as a sort of "super adrenaline" that gives users "super human strength and no perception of pain," he said. "These people seem highly victimized by their own inner terror," Reinke said. The lack of reasoning, chemically fueled strength and lack of pain perception make users difficult to sedate, he said.
Whereas tranquilizers are usually given in milligram doses for sedation, "it takes massive quantities to bring them down to a manageable levels. We're talking buckets here. We're talking about all sorts of medications that would really stun a horse; these guys are just blasting through it all," he said.
Other people, including medical staff and police officers, have been harmed in the process of bringing down a user, he said. He said that he had never seen the use of a "body net" until bath salts users began to arrive at the hospital. "These people are going full bore on the gas pedal of a car that's out of control," he said. "We've got six to eight burly guys struggle to get one guy down in a body net, so we can get a massive amount of medication into them before we were finally able to sedate them and put them on a ventilator, and then hopefully wait until their gas tank runs out – because that gas pedal never comes up."
The psychological state of users, he said, appears to be terror. At the same time, he said, once users return to their sense, they don't remember the terror – which makes them prone to using again.
Barbara Royal, the director of the Ellsworth-based Open Door Recovery Center, said the center saw its first bath salts user last October.
Open Door offers outpatient substance abuse programs.
Royal said the person was a long-time client of the center, had struggled with addiction on and off over the years, and had experimented and been addicted to multiple drugs. In this particular instance, she said, the client arrived at the center after the worst of his experience had passed. His symptoms had included loss of vision and "bizarre" hallucinations, she reported.
"I remember this individual saying to me, 'Barbara, people are going to die. I have never experienced anything like this is my life,'" she recalled.
Just a week later, she said, the center began getting calls from medical providers in the area who were dealing with bath salts users. At that beginning stage of the drug's arrival in Hancock County, she said, clients called the drug "monkey dust." Staffers at the center had never heard of either "bath salts" or "monkey dust" until that point, she said. The term "monkey dust," she said, came about because of how people end up looking after long-term use.
"Their physical features change," she said. "They become very thin, very drawn, with very sunken cheekbones, and dark circles under the eyes. Some clients say people they've known who have used bath salts for a long period of time actually start to look like monkeys."
Royal said her clients have described hallucinations that appear to indicate that they had lost all touch with reality while under the influence. She said clients reported imagined experiences of being chased, shot at, or beaten up; others see animals dancing or talking to them. Many, she said, run away and try to hide.
"We've had some people actually bury themselves under the forest floor, under leaves and sticks, trying to protect themselves from what they believes are forces coming after them," she said.
Royal said the impact of the drug is particularly tragic when it comes to drug users who are parents. With other drugs, she said, most parents generally do their best to beat their addiction, motivated by the fear of losing their children or of not regaining them back from foster care. But bath salts users who are parents and were formerly trying to get their children back from foster care, she said, no longer seem interested.
"Something has shifted," she said of the parents. "Those who were desperately trying to reunify, who wanted their children, who would have done anything, are now getting sucked into that world of bath salts."
Since October, she said, Open Door has worked with approximately 10 bath salts cases which resulted in the removal of children from their parents.
At the Acadia Family Center, Oechslie said that, speaking anecdotally, the drug seems to be attractive as a new way to get high for people who struggle with an addictive nature. Oechslie said that local media coverage of the epidemic may have played an inadvertent role in attracting people to the drug by, essentially, advertising the drug's low cost and intense effects.
But once an addict has tried bath salts, "Then they find out it's really something they don't want to use," he said. A non-intensive outpatient counseling service, AFC sees clients in the recovery stage of addiction. Oechslie stressed that his information about the experience of the drug comes from discussions with clients, not from direct observation. "They're saying, 'It's the worst thing I ever experienced,'" Oechslie said.
Oechslie said that anecdotal evidence appears to show that, with bath salts, the initial high is not diminished with subsequent use. He said that this compares with other drugs such as freebase cocaine and heroin, which have an initial high that can never again be achieved to the same degree. The downside of the consistent euphoria, he said, is that "coming off of it is so horrible, so depressing, that it seems like when you're in that coming-down stage, the only logical solution is to use again."
At MDI Hospital, said Krevans, none of the cases of confirmed or suspected bath salts use has involved the type of uncontrollable, violent behavior that has been reported by other hospitals. However, there was some need for physical control of the patient in at least two incidents, and the presence of a police officer was involved in at least one incident, he said. "People came in agitated, confused and unhappy, for lack of a better word," he said of the patients' state of mind. "It's not as though they made themselves feel really good or happily delirious."
One of the patients ended up in a psychiatric facility, he said. At least one of the patients ended up back in the emergency room, some weeks later. And, according to statements from the family, "they were not back to their personality" and "their ability to perceive the world had changed," he said. "These drugs can act at a very profound level to disrupt the brain's ability to regulate the body," Krevans said. "That's one of the lessons people have learned elsewhere. You have be alert to fact that the brain may be so disrupted that you end up having to completely sedate people as though they are under general anesthesia in order to take control of their basic body functions, which is not a simple task. This is a stimulant that can turn up your basic body functions so high that you become no longer functional."
Krevans said that, although MDI has not had the high incidence of bath salts use that has been seen in Bangor over the past year, hospital staff is concerned about the potential for an uptick with the influx of seasonal employees this summer. He said that part of the concern is for employees coming from other countries where bath salts are not prevalent, who might be lured into trying the substance.
"It did occur to us that this would be a new, susceptible group that's arriving," he said.
He said there has been some discussion among hospital personnel about asking MDI's larger seasonal employers to provide information about this substance to their workers. Royal said there's been a lull in the arrival of bath salts users since the drug was outlawed.
"In just the past few weeks, it started to quiet down a bit," Royal said. "That doesn't mean it isn't happening out there. We know it is. We catch wind from clients that people are still using." "It's incumbent on all of us to remain vigilant," said Bassano. "This doesn't show signs of being a passing fad."
(Published in The Bar Harbor Times, Feb. 8, 2012.)