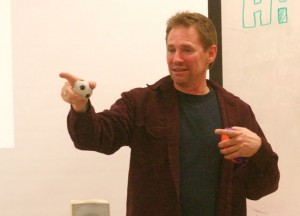 Kip Young was at Pemetic Elementary School, setting up a PowerPoint presentation for one of his weekly meetings with the eighth-grade class.
Young is a drug and alcohol counselor with the Acadia Family Center in Southwest Harbor. He is also a former substance user who got sober 24 years ago and, since then, has built on his personal experience and his professional training to develop a substance abuse prevention program for school settings.
"By telling my own story and stories of people I have known, the most important message that I bring to the kids is a message of choice and hope," he told a visitor to the class. "Sure, there are some kids in high school that use drugs and alcohol. But the majority of kids do not. I talk about the rewards for those who don't use, as well as the possible consequences for those who do. I help them understand the importance of recognizing their own strengths, and using these strengths to navigate their young lives."
On this particular morning, the classroom teacher, Sonia Philbrook, explained that Young's 10-week program is an integral part of the school's health education curriculum for eighth-graders.
For this, the final day of the weekly sessions, Young told the class that he wanted to share the stories of some people who had been in his life. Most, he said, had experienced the depths of misery because of substance abuse, and their lives had taken a variety of trajectories.
"I put this together a couple of years ago because I thought it was important to demonstrate the power of the decisions you all make," he told the class before turning on the PowerPoint. "I made my most important decisions in my teen years. And even before that, from about 10 years old to 15, I really set myself on a course that was going to be really difficult to change. And here you are – 13, 14 – and you are going to make some huge choices, not only in what you do but in what you don't do, and in who you hang out with. So what I want to do is talk to you about some of the friends I had when I was younger and where they are today."
The class was quietly attentive as Young reminded them of his own story, which he had shared earlier in the program. He grew up in Maine, took his first swig of beer at age 12, and began a litany of drugs that included marijuana, LSD and what became a debilitating addiction to smoking cocaine. A near-death experience in 1987, when he was 27, landed him at Mount Desert Island Hospital. He was sent to a detoxification center in Portland and began his rehabilitation.
 "I was one of the lucky ones," he said. "Starting drugs young usually leads to multiple life difficulties or some kind of tragedy."
In 1990, he began to study for his license as an addiction counselor. He went to work for the Bangor-based treatment center Wellspring, Inc.; then for the Caron Foundation in Pennsylvania.
In 1994, he returned to Maine, where he worked as a commercial fisherman while also developing school programs and working for the Open Door Recovery Center in Ellsworth. In 2008, he was hired by the Acadia Family Center, where in addition to his extensive school-based program, he works one-on-one with clients and facilitates a number of groups.
Over the years, Young has brought his education programs to schools from Mount Desert Island and the nearby islands to Ellsworth and into the Down East region. His goal, he said, is to inform without being "preachy" and to "let their own curiosity investigate." His program has been part of the Pemetic curriculum for seven years now.
For the Pemetic eighth-graders, Young pulled up photos on the projector of people who had once been in his life. He said that a couple of old friends had ended up as lucky as he had; most had not. He spoke warmly about each person.
One of the success stories was "Johnny," who stayed away from drugs and alcohol through high school, where he was "a Tom Cruise type of guy," played soccer and trumpet, and was on the student council.
"I don't know why, but he started hanging around people who used drugs and alcohol, and he began using, too," Young said.
The two ended up living in a "drug house" in Florida.
"But one day, I woke up and went out into the kitchen and there was Johnny with all his bags packed. We were both 18. I said, 'Dude, what's going on?' And he said, 'I'm going back to Maine.' I asked why. He kind of talked around it and never really said it, but what he did is, he woke up and he looked around and he realized he was living with a bunch of drug dealers and psychotics and criminals. And I think he looked at his future and was looking at their lives, and he made a decision that he wanted more than that. And he left."
Eventually, said Young, Johnny enlisted in the military and became a rescue chopper pilot and then a base commander. In recent years, Johnny was received at the White House by President Bush, and recognized for his leading role in the response to a plane crash over the Atlantic Ocean, where he assisted with the retrieval of bodies through a 48-hour period.
"Think about this," Young told the students. "Here's this kid, he's 18 years old, he's living in Florida with a bunch of his friends, they're all smoking and drinking, partying, just kind of living life like a leaf in a wind. And one morning, he woke up and made a decision that would forever alter his life. He said, 'I want something better.' He went home and joined the military. Now he's retired, lives with his wife, and is a very happy guy. We're still great friends. One decision, it changed his life forever."
He also told a story of a high school friend he graduated with who worked hard in high school, went to college, and later became one of the pioneers in the Microsoft Corporation.
But the majority of stories, said Young, did not end happily.
"Jim" was a drug dealer who landed twice in a federal penitentiary and died two years ago in a single-car accident. Jim's friend "Ty" also went to prison for drug trafficking. Ty, a gentler personality, was determined to stay clean when he was freed. He got a job as a cook. Two months later, he died of a heroin overdose. "Ron" was kicked out of the military, a career he loved, for possession of marijuana and LSD.
"Eddie" was the first person Young had ever met who injected drugs.
"He invited me over one day. He came out of the kitchen and he had two syringes. He put one down on the table and said, 'There you go.' And I said, 'No, man.' Next thing, he tied his arms off, and he stuck one in one forearm and one in the other."
Young said he later learned that Eddie drowned when he was sitting by the water one day, injecting heroin.
"What happens with people when they inject heroin, they kind of go to sleep," Young said. "But instead of falling over backwards, he fell forward into the  water, and when they fished him out of the water he still had the syringe in his arm."
Then there was "Melissa," a former girlfriend and a binge user of alcohol and prescription opiates. Melissa would stay clean for a month or two, then disappear for days and return burned out. She went off with another man who dumped her because of her drug habit. She turned to Young and his friend "Ralph" for help, because she was pregnant and penniless.
Ralph took her in, she got clean, the baby was born, and they became a family.
When the baby was a few months old, she began getting high again. Ralph accepted her apologies for a while, then called it quits. Melissa moved in with her mother, left her baby with a friend, and disappeared on a binge for three days. The friend called the Department of Health and Human Services. Facing the loss of her child, she enrolled in treatment programs but was unable to stay clean.
Melissa lost her child, moved in with another man, and continued her pattern of substance use. One day, said Young, she returned, said hi to her boyfriend, grabbed a beer and went into the living room.
"A few minutes later, someone knocked on the door. It was a state policeman. He said, 'Someone has jumped off your balcony,'" Young said.
It was Melissa. She fell five stories, landed on her feet, and suffered multiple broken bones and internal injuries.
At the hospital, he said, her opiate addiction was exacerbated by painkillers. When she returned to Ralph's apartment, she was sitting in her wheelchair one day and appeared to be napping. Instead, she had stopped breathing, possibly a result of overdosing on her opiate medication, said Young. She was in her early 30s.
Throughout the narratives, the students were clearly engaged. Some expressed admiration for Johnny's success in life. Others expressed dismay about Melissa's fate but, more so, about the effects of Melissa's choices on her child.
Young told the students that the goal of sharing his own story and those of others in his life was to try to make them "think a little deeper" as they coped with the influences that life would present.
At their age, he said, he was already well along in a life of drink and drugs.
"This is where I lost control of my life. I started using before this time. I drank a few times in the sixth grade, and I started smoking in the seventh grade. By eighth grade, something was already happening to me. Partying  was something I was very involved in. I was smoking weed, I was drinking, and I was trying other drugs," he said. "High school can be the place to prepare and get your life ready,  and if you want, get ready to go to college. And yes, there are some kids who are involved in high-risk behaviors, but you get to choose if you're going to be one of them."
Young told the students they were at a crucial transition time in their lives, as they head into high school and its larger world of opportunities and influences.
"What you do is so incredibly important," he said. "What you've got to understand is that, what you do now will shape the rest of your life."
Awareness of the problem of drug abuse generally varies by region, Young said in a subsequent interview.
"Last year, I was at a local elementary school, and  I asked the sixth graders, 'How many of you have heard of the drug Oxycontin?' One or two students raised their hands. I asked that same question at several schools in Washington County and nearly every student raised their hand," he said. "You get in some of the parts of Maine where it's more  rural and drug use is a lot more rampant, so even if you have an intact family and people are paying attention to raising their kids, it can be hard to protect them from what they're  hearing from other kids. Right now we have a plague here. I'm going to name it a plague. Opiate use; it's just so rampant. I have met some high school kids who have used opiate prescription drugs, and I have known one student in the last few years from a local high school who had used heroin. So far, I think we've done pretty good educating them, but the opiate drugs have become such a part of our community that they are here to stay, unfortunately."
For those high school students who do drugs, the most common choices are mainly alcohol and pot, with some use of prescription opiate pills, he said.
"I am concerned that pills will become more mainstream in the high school," he said. "Then you may have some kids either not finishing high school or leaving high school already with an opiate addiction. And bouncing back from opiates is not the same; it's a hard, hard thing to do. Many of my clients are opiate-dependent. It's hard because opiate drugs are addictive on so many levels. Most importantly is that they're physically addictive.  The opiate withdrawal symptoms are brutal, but recovery is still possible. The courage that many of my clients show in recovering from opiate dependence is very inspiring."
Prescription opiates and even opiate replacement drugs, such as Suboxone, are common in the local community, he said.
Young said that people are able to get drugs on the street or through diversion of someone else's legitimate prescription.
"You can get anything you want," he said. "Heroin seems to have taken a little dip right now, but that's probably temporary. That stuff's around. And Percoset, Oxycontin, Hydrocodone, methadone, Suboxone, morphine. Some people are using methadone illegally."
According to Young, Bar Harbor can be a center for drug-dealing, and there's drug-dealing in other parts of the community as well.
"My clients will say things like, 'I just can't go to Bar Harbor,' because when they go to Bar Harbor, they start seeing people that trigger them. This is one of the things I teach people that I work with – the number one thing is, don't hang around people who use. So people start protecting themselves by staying away from the old haunts. For some of my clients in early recovery, just going to Bar Harbor or not can mean the difference between using or not using."
For children, he said, regular education about chemical dependency is key to drug prevention.
"Addiction seems to be a young person's problem," he said. "And most of the people I've worked with, when you ask them, 'How old were you when you first started using?' you get answers between 10 and 15. And these are the people who end up in treatment centers when they're in their 20s and 30s, if they're lucky."
Kids are particularly vulnerable, he said, because of society's promotion of alcohol and pain medication use and generally permissive outlook on marijuana use.
"Because of the reality in our community,  kids need to know what opiates are, what they do to people, and how to avoid it," he said. "It's one of the things I'm hoping the state will recognize and take responsibility for."
Young said that, when he's in the schools, he does not engage with students about any specific experiences they  might have with drugs in their lives.
"I'm not there to get information from them, I'm there so they can information from me." Still, he said, with addiction and dependency so widespread in the community, it is apparent that "there will most likely be a certain number of kids in every class who will somehow be affected by someone else's substance use."
Using real-life stories in his program is a time-tested method that helps to convey his message, he said.
"People live through stories," he said. "I'll see kids 10 years later who can still tell me some of the stories I told. And that tells me that that approach – going in and giving them real-life stories about people I've worked with and what I've seen other people go through – the kids do remember that. Especially the people I have an emotional attachment with, by the time I'm done, the kids have an emotional attachment, too. And so the people I care about, they care about, too. I tell a couple of stories of friends of mine who died from opiate overdoses, and sometimes I get choked up and the kids do, too. They realize, 'Hey, this is real.' This isn't just a poster. There's real tragedy, and there's real hope of learning from the tragic lives of some of these people."
 (Published in The Bar Harbor Times, Nov. 23, 2011.)