BASS HARBOR – The projects of the Mohawk Arts Collective begin with the ideas of the two founders, Andrew Simon and Pavel Ezrohi, and evolve with the added energy of invited artists, who recently traveled from New York City to Bass Harbor for a week's worth of rehearsal and performance.
Youthful and vibrant, the collective centers itself in a remote coastal village. But it is a spike of activity that originates in a wide world of cultural trends, and links the euphoria of globalization with the connectivity of technology to spin off new messages in the arts.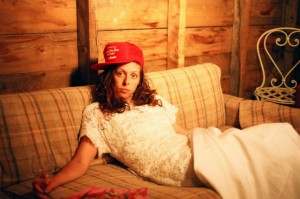 "The idea that technology has allowed us to connect with, literally, billions of people, and how does that feed into the art you want make – I think that's a real question of making art today," says Simon.
Simon and Ezrohi were recently rehearsing a variety show's worth of performances with members of a Brooklyn, N.Y.-based arts collective called GodDamn Cobras. Simon is an actor, theater director, and teacher. Ezrohi is a freelance filmmaker and photographer. Both are in their late 20s and primarily live in New York, but Simon's grandparents had a home and antique store in Bass Harbor, and the two have become increasingly fond of their time – and artistic productivity – by the coast.
When the Cobras arrived for a week of collaboration with the Mohawks, they found themselves in a rustic barn overlooking the mudflats. One of them blogged, "First day here, we found a haybale and a moped. We all immediately thought of our favorite summer camp film."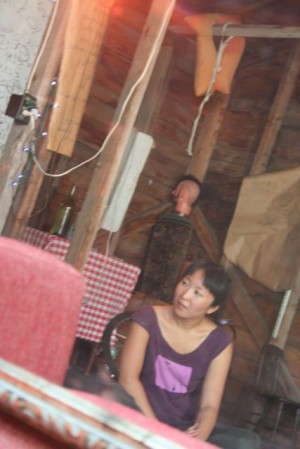 Today, the group is rehearsing a dance based on a song called "Home," which was written by the alternative rock/indie folk/neo-psychedelia band Edward Sharpe and the Magnetic Zeros. The song came out in 2009 and was an instant hit, thanks to its upbeat sound, joyful, folksy lyrics, and catchy hooks.
"Everybody here knew the song pretty well," says Simon. "I think most of the crew said, 'Wow, what a great song!' For me, this was an opportunity to reclaim this song in a different way. It's a beautiful song with beautiful lyrics that really makes me want to move, and this is my way of interpreting it."
The Mohawks got its start four years ago, when Simon had an idea to set up a working retreat at his grandmother's barn. His grandmother, Doris Simon, loved antiques and operated a store called Once Upon A Time in Mamaroneck, N.Y., and in the barn behind her Bass Harbor home, which was built in the 1850s.
Andrew was close with his grandmother.
"I was six years old, my first summer here," he says.
When Doris died in 2003, Andrew was 20. His family decided to keep the house, and pretty much ceded the barn to him.
Simon and Ezrohi had gone to college together, and they did some artistic work together, there and later when they were hanging out in New York. At first, they weren't terribly close.
When Simon invited acquaintances and friends to his working retreat, everyone bailed except Ezrohi. The two did a children's piece together and performed it at the Town Hill playground.
"It was an important artistic moment for the two of us," says Simon. "After we performed, we went on a hike and said, 'We're going to do this every year."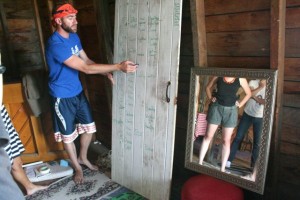 "We made a pact," says Ezrohi. "That day after the show, it was a very special moment for us, creatively and collaboratively. We said, This is something really important to us. This is something we can make into a tradition, and it's something we can make grow. We talked about it in terms of decades."
The signature icon of what was then the two-person collective came about because Simon had a mohawk hairstyle, and then he shaved Ezrohi as part of the children's show.
"We just really like mohawks," says Ezrohi, whose oval head is accentuated by a jawline beard and his neatly groomed hair strip, revealed when he removes his black fedora.
"It's an opportunity to do something a little drastic," says Simon, who has deep lines etched above his cheeks, and whose mohawk these days is perhaps a bit scanty. "And in terms of recognizability, we thing that helps a lot. That's our dream, whoever comes up, got to get a mohawk. We offer free mohawks every year. It's just an interesting way to communicate with our audience. But mostly it's just really cool."
The two became aware of the GodDamn Cobras through a video the Brooklyn collective made. It was a mash-up tribute to the filmmaker John Hughes, who died in 2009 after making hit comedies and brat pack portrayals such as The Breakfast Club. In the tribute, Cobras performed some of the movies' famous dance scenes to the jaunty song Lisztomania, by the French alternative rock band Phoenix. The mash-up went viral on the internet, and groups from Europe to South America to Nairobi have made their own Hughes/Lisztomania tributes.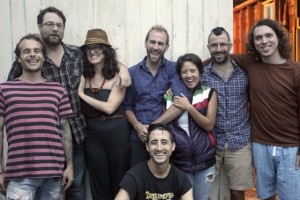 The Cobras – who, on their website, say they believe in participatory culture, collaboration, and community, and make videos, theater, photographs, food, words, music, mayhem, and love –  along with this summer's other invited artists, took to the Mohawks collaboration with beaming smiles.
The Mohawks are into experiment. They're interested in things that are not rigid or traditional theater. They're interested in expanding what's possible with theater. They naturally click with groups like the Cobras.
"I think the Cobras are vey representative of what's going on in Brooklyn," says Ezrohi. "They're very internet-savvy. Just as everything in our modern American lives is moving more and more online, I think art is one of the things that's moving online. I think fewer things are happening live, and more things are migrating online. Meaning, you're having personal, curated experiences with your screen."
"Additionally," says Simon, "this collective, this year, feels very postmodern. We talk about the work being self-referential. It's a real remix culture in contemporary art."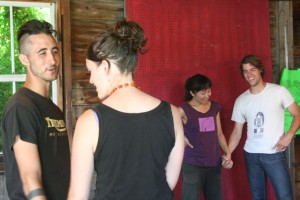 "It's being remixed, remixed, and remixed," says Ezrohi.
The Phoenix song and Hughes clips aren't new art; the cyclical mashup is, and all the internet's a stage.
The week-long working retreat this summer involved 12 people who worked on different aspects of live and video performance pieces. There was a sound installation inside a tipi constructed on the lawn, a song from an original rock opera, a comedy sketch, a theater piece that would be like the Moth storytelling hour, and a puppet show. A musician from Boston would do a song. Some were working on a video of a song called Smile, from the rock opera, for promotion purposes back in New York. Others were planning, for next summer, to create an "unofficial Quiet Side tourism office" on the Simon family's front porch. There would be taped testimonials. It would be an expression of pride.
All the pieces "came out pretty organically," says Ezrohi. "We invited everybody up and said, 'Anybody who has an idea, look around the table. Everyone is here to support you for the performance.'"
"That's the whole concept," says Simon. "A lot of artists come together and work together in a house. Each person brings an idea and everybody agrees to support one another, and it culminates in a free public performance. So it's almost always going to be a variety show. And I want it to be a variety show, because I want the artists to be working across different media. So I want to have a writer, and a musician, and a visual artist, and an actor, who can come up and use one another as resources as they make progress and work toward a performance."
Simon has written blocking notes on an old plank door that's off its hinges and propped against a wall. Everyone gathers around the door, where he indicates "her" and "him" in the chorus combined with "gesture" and "sweep."
The song, grounded in the multiple layering of instruments and vocals, also has a hootenanny quality – something of a twang in the vocals, a hot-day laziness on the lead-ins, a cheerful childhood whistling.
Simon choreographs a line dance that switches into couples dancing, and encourages flourishes and twirls.
"Then the trumpets come in," he explains. "The trumpets are a bunch of gestures and then we've got the sweep on the heys. Then it's hey hey, two sweeps. Then it's la la la la, 'Take me home, darling, I'm coming home.' Bow bow bow bow bow, boom! Let's work la la la la right now. It's walking around the space giving each other high-fives. Just kind of freeform going around. You need to get yourself to that place. It looks like you're just high-fiving people, but you need to be at that spot."
Since it's a collective, many voices chime in to negotiate the movements.
"The onus is going to be on you guys to work this out. It's your own understanding of the rhythm," says Simon. "Doh si doh."
The dancers should also mimic a passage of spoken dialogue that's in the middle of the song, he says. But they don't need to say the exact words; they can make up their own.
"The story is about that moment when I realized I was falling in love with you. You need to know who's talking when," he says.
Natalya Krimgold is paired with Jethro Rebollar. Both have highly expressive faces. Rebollar's face is accented by the natural arc of his black eyebrows, which would give him a sad-eyed expression except for his exuberant smile. Wearing workboots and a Triumph motorcycle T-shirt with white Capri pants, he has a puffy black mohawk that stands up like a plume of feathers.
Simon starts the music in the spoken passage.
"Jade?" says Rebollar, mimicking the male singer's line.
Krimgold's eyes pop and her smile lights up the room as she follows with the female vocaist's "Alexander?"
"Do you remember that day you fell out of my window?"
"I sure do, you came jumping out after me."
The two are limber, and they swirl around one another. Their byplay captures the attention of the other artists.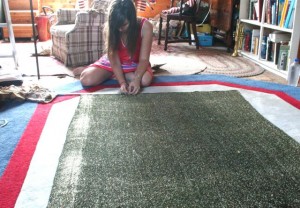 "Well, there's something I never told you about that night."
"What didn't you tell me?"
"While you were sitting in the backseat smoking a cigarette you thought was going to be your last, I was falling deep, deeply in love with you and I never told you 'til just now."
After their playful recitation, the others applaud.
Simon turns to Rebollar. "Remember when you first came to the house and said you wanted to get a mohawk?" he asks. "And I asked you, 'Are you serious?' You said, 'Yeah.' At that moment, I fell deeply, deeply in love with you and I never told you that."
Downstairs, the wood-planked, uninsulated barn is outfitted with an assortment of throw rugs. Holiday lights, shop lamps, lightbulbs covered with upside-down shades, lifejackets and buoys are slung along the beams. Gilt-framed mirrors are propped on tatty furnishings. There's an upright piano in one corner, a Casio keyboard, Behringer amplifier, iPod, laptops, rolls of paper, and stacks of vinyl records in another and, in a third corner, a unicycle, an antique child's chair, and a mannequin's head sporting a mohawk, stowed atop a rolled-up oriental rug,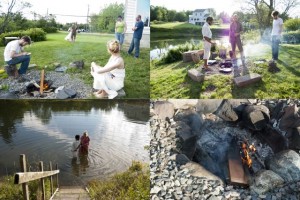 The second-story walls, slanted with the roof, are decorated with an assortment of images – a world map, Palais de Glace on the Champs-Elysees, SpaceRiders, scraps of writing, Picasso with his hand at his temple, an antiques and jewelry show announcement, vintage postcards, family photos, stick-figure drawings. A picture window overlooks the harbor. A trumpet stands on its bell on the floor. There are shelves overflowing with CDs and books, including one on Impressionism, another on Lindbergh, and a travel guide to Ireland. Racks of clothes and hats decorated with feathers and fur are available for performance costumes. One of the Cobras, plying needle and thread, is hunched over a gleamy-gold swath of stretchy fabric that lies flat on a carpet. She is sewing the fabric into a toga for a swamp princess, one of the characters in the rock opera video.
Simon and Ezrohi connected, during their first piece in 2009, because they trust each other's talents and commitment to making good work.
The first show was called It Happened. A children's theater piece, it was  adapted from the work of Daniil Kharms and  performed "environmentally" on a playground, in the style of the Russian avant-garde Oberiuti movement.
"We became aware that it wasn't just that we did this little show and it was really fun," Ezrohi says. "We became aware that, through that week, this really intense, short amount of time, our relationship went from one place to a completely different place."
"I think we bring in a certain professionalism, even if it's little piece," says Simon. "For me, that makes a big difference. I love that he's so committed to hunkering down and getting the work done. It doesn't feel like we're just screwing around. It feels like, collectively, we have a lot of potential and we're going to commit to making some real progress any time we're together."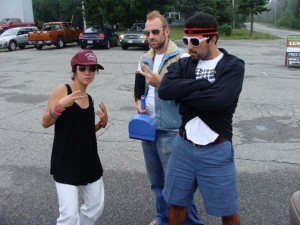 The 2010 show was called The Gunpowder Plot. It was an original performance piece adapted from and inspired by the work of Jules Verne, Jorge Luis Borges, Sufjan Stevens, and the Bible. The performance was followed by s'mores around the campfire with the audience.
In 2011, Ezrohi, Simon, and Justine Lee-Mills created several, more complex and varied pieces in New York, and then spent the week on Mount Desert Island presenting them to the public. The collection was called Busy Woods. There was a piece called Love Poems for Rosalind, which involved Orlando "sticking his love poems all over the forest of Arden in 'As You Like It,'" Simon said at the time. "We'll be posting verses all over the island to local objects of our affection."
The Nuptials was about "everyone getting married and everyone else is invited.  We're posting an open invitation to join us for a night of 12 theatrical weddings in Bass Harbor."
And there was a children's show called Another Part of the Island. It was an adaptation of The Tempest; a lobsterman named Cal tries to figure out where all the lobsters have gone.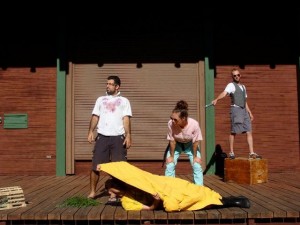 This year's piece was called Punch the Moon. Journey and connection formed the theme of the show.
"It's about travel in a broad sense – crossing frontiers, crossing  boundaries, crossing borders, and performing for a community in another place," says Simon. "It's this fantastic combination of now knowing the Cobras, using the internet to get connected to them, and then coming to this remote place and living together and eating together, and really forcing ourselves into this very small space to make the work, finding a connection with someone and expressing that, and then putting the work online. It's this cycle."
For both men, the point on the cycle that is the Bass Harbor community has become an increasingly important source of inspiration.
"Each summer, both of us wind up spending more and more time here," Simon says. "Pavel spent time here until March. I'll be here until January. There's something very special here for both of us. After living in New York for a while, there's a real appeal, a real charm to small-town living. It feeds into the work we want to do and the opportunity we see for making art and sharing that with the public."
mohawkartscollective.com
goddamncobras.com